Low speed two-shaft shredder
The Crambo is one of the best machines there is for shredding all types of wood and green cuttings. Two low speed drums with teeth minimise the fines component, as well as noise and dust emissions, and are resilient against contraries.
The degree of shredding can be adjusted flexibly, by changing the screen basket. Thus, the Crambo can shred to exactly the size range best suited for further processing. Both the mobile and the stationary versions are offered with a choice of hydraulic or mechanical drum drive. Integration in a processing line is straightforward, and a modular system for setup, control technology, and material feed and discharge offers numerous options for almost any requirement.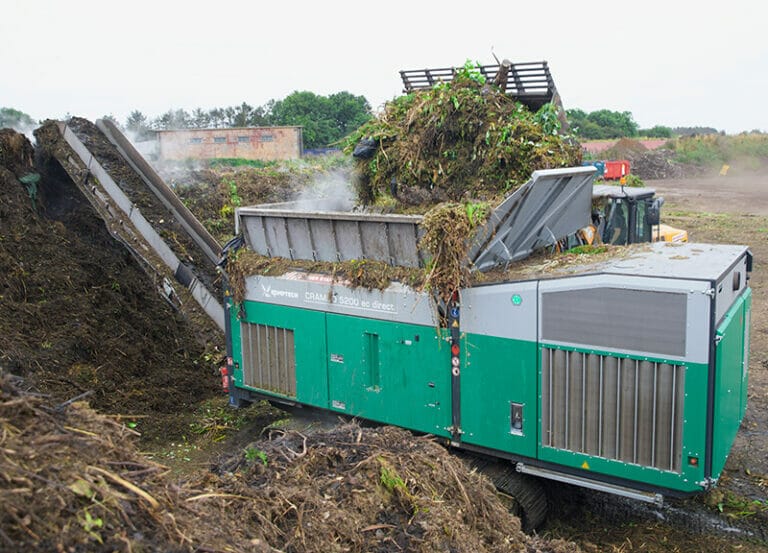 Low-speed single shaft shredder
The processing of waste for materials recycling or energy production usually starts with shredding, to condition the material stream for further process steps. This is exactly what the Terminator is built for. As a tough, low-speed shredder it can be used on almost all types of solid waste. The hydraulic drum drive with load-dependent speed control develops the highest shredding forces. Stepless cutting gap adjustment allows sizing of the output for its intended purpose.
On the mobile machines, hydraulic drive with load-dependent speed control ensures full use of the engine power. On the stationary versions, there is also the option of electro-mechanical drive for the highest efficiency. Numerous configurations and modifications are possible for all versions.
The Axtor 4510 is a versatile machine for processing wood and green cuttings. With a 340 kW engine and a total weight under 19 tonnes in the trailer version, the 4510 is ideal for light and medium-duty work. If more is needed, there is the powerful 430 kilowatt Axtor 6210, with throughputs up to 300 m3. Compact dimensions and high flexibility in applications also make the Axtor idea for subcontractors. Green cuttings, waste wood or trunks – through its ability to work in either shredder or chipper mode, the machine always outputs the desired product. Other features of the Axtor series are a wide feed area with tilt hopper, tough and aggressive intake system, and roomy service platform with excellent access to engine and drum for maintenance work.
Looking for Komptech shredders?